Motorbikes rental beautiful La Palma 24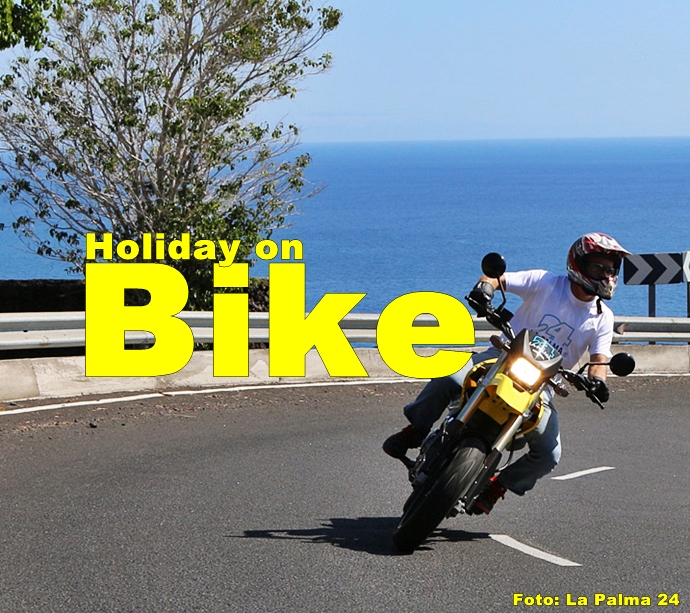 Easy riding on the Isla Bonita
The roads and curves of the Canary Island La Palma promise Easy Rider feeling without end. Now you can on La Palma Motorcycles for rent and explore the volcanic landscapes of the Isla Bonita – on request also with experienced guides!
 
Recently wait rental motorcycles for sale in La Palma 24 on her future fans: Currently, the models are Ducati Scrambler, Honda FMX 650, Honda MSX 125, Kawasaki ER6n and scooter KYMCO people 50cc – and brand new since November 2017 the BMW F 700 GS – available – all machines, they are perfectly suitable for the mountainous sections of the island. "It's not about speed - what counts, is the fun factor", makes around La Palma-24 - CEO Miki you want on voyages of discovery about the 1.200 paved kilometers on the Isla Bonita. "Who here is a Motorcycle rent, should bring already experience - for this reason, there is the Motorcycle rental La Palma 24 also a much more detailed briefing as in our cars, and we check the skills of the driver!"
 
Motorcycle tour with experienced guide
La Palma 24 organized trips with each different degrees of difficulty, which can last from four to ten hours and are individually planned. "While we visit the most beautiful corners of the island, are to be found in any travel guide", says Miki.
Inform about details Miki and Charlie on the phone, email and even live chat all numbers here click. Save to Favorites: The La Palma is Todoque 24 Office of the 1. September 2015 to 30. April 2016 back to the Winter hours Monday to Friday from 9 to 18 PM and on Saturdays from 10 to 13 Clock Open. To the Web page: Motorcycle rental La Palma 24.
 
Motorbikes rental: Accessories and shuttle service
An important point in view of the limited flight luggage: Who is a holiday on La Palma Motorbikes rental would like to, needs to carry his heavy leather clothes and other items not. Helmets, Jackets, Gloves and kidney belts can for a fee also in La Palma 24 be hired.
For all, they look at mobility in the holiday completely relied on the motorcycle, has set up a shuttle service Miki. Say: Upon arrival at the airport of Santa Cruz de La Palma (SPC) a la Palma 24 car waiting for the biker, with which they themselves and their baggage can transport to their residence. Then shuts the car to the Office in Todoque, where the motorcycles ready ready. Upon departure, everything works just as – only in "Reverse". By the way: Also an additional driver can be booked, If this also fulfils the conditions of rent (see short descriptions of the bikes below).
 
Our motorcycles on La Palma
The Ducati Scrambler: The "Climbers" is ideal for La Palma
For La Palma, 24 CEO Miki is the Scrambler a little dream come true, because he had long spotted them at the VW locations on La Palma, and finally, in his July vacation in Germany in the Motorradhaus Limbächer & Limbaecher driving test in Bernhausen on the filder plain. But after his first run in early September 2016 on La Palma, he was then completely by socks: "I know now, why you Ducati referred to always as noble bike Schmiede", raves Miki. "The driving fun on the twisty mountain roads of La Palma is just amazing!"I particularly like Miki, that he is Cruiser "handy" and has a "super swipe". BB´s of the 75hp / 800 cc engine for the light-weight of the machine makes it possible by 192 Kilo. "It's not about the lawn, but that's why, to enjoy the beautiful countryside of La Palma, and for that which is Ducati Scrambler simply perfect - also for women." More information and detailed specifications of the Ducati scrambler in our article.
 
Ski Kawa ER6n: Fun for everyone
Handy, economical, comfortable: So many motorcycle riders describe the Kawa ER6n. Beginners and experienced bikers will have their joy at the simple handling of this machine – at the latest when you on the winding road to the Roque de los Muchachos, the highest peak on La Palma, are. Contribute inter alia the upright seating position and the wide handlebars. The Paralleltwin developed specially for this model provides 72 Horsepower at the rear wheel – that provides enough torque for a few shifts. The ER6n has a good passage from low revs, and thanks to the gentle power delivery guarantees fun for everyone.
Technical data: Sport touring, 649 CC, 2-Cylinder, Performance 53 KW (72 PS), 6-Gear transmission, 200 km/h maximum speed, 205 kg fully fuelled, 200 kg payload, 80,5 Seat height cm, 16 Liter tank, about 288 km range on a single tank, Consumption: about 6,5 Liters/100 km.
Rental conditions: The Kawasaki ER6n can be rented only from people, the at least 25 Are years old, the driver's license class A have and a driving experience by 2 Years can prove. Motorcycle questions
 
The Honda FMX 650: For the young and young at heart
The air-cooled single-cylinder four-stroke engine with 5-speed transmission is 38 HP strong and grabs any slope to La Palma without problems due to the good translation. The FMX 650 is incredibly handy and amazingly agile. In addition, an impeccable cornering stability. Although with equally fat 17-inch frosted like other Super motorcycle engines, surprised this Honda with very neutral steering behaviour and minimal installation torque when braking in a tilted position. While doing so the tautly tuned suspension offers good feedback on the situation of the grip most behind- as on the front wheel. The motorcycle allows harmonious cornering without too much friction work, the throttle response is soft and harmonious.
Technology: Supermoto, 644 CC, 1-Cylinder, Performance 28 KW (38 PS), 5-Gear transmission, 145 Speed km/h, 186 kg fully fuelled, 169 kg payload, 87,5 Seat height cm, 11 Liter tank, about 200 km range on a single tank, Consumption: about 6,5 Liters/100 km.
Rental conditions: The Honda FMX 650 can be rented only by bikers, the at least 25 Are years old, the driver's license class A have and a driving experience by 2 Years can prove. Motorcycle questions
 
The scooter KYMCO people 50
The scooter KYMCO people 50 perfectly suited for the island of La Palma. Whether in the city or on the winding roads of the island, the roller always good and superior maneuverability.
Some data: 49,4 CC, 1-Cylinder 2 Clock, Performance 3,3 KW (4,5 PS), Variator, Centrifugal clutch, 45 km/h max. Speed, 100 kg fully fuelled, 173 kg payload, 80 Seat height cm, 6,7 Liter tank, CA. 200 km range on a single tank, Consumption: CA. 3,4 Liters/100 km
Rental terms scooter people 50: At least 18 Years and driving license category AM or B. Scooter questions
 
The Honda MSX 125: Driving pleasure in a new dimension
Small, but powerful - and so really trendy: Motorbike fans know, a bike must be not large, to stand out from the crowd, but especially!
The two-seater fun bike fulfils this requirement Honda MSX125. Larger than a mini bike, but less than a motorcycle, the unconventional machine with its wide 12-inch wheels all attracts attention. Their low weight and its powerful cylinder motor ensures fun - especially in the curves.
Technology-information coming soon: Bike fun, 125 CC, 1-Cylinder, Performance 7,2 KW (10 PS), 4-Gear transmission, 90 Speed km/h, 102 kg fully fuelled, 154 kg payload, 76,5 Seat height cm, 5,5 Liter tank, about 200 km range on a single tank, Consumption: about 2,5 Liter per 100 km.
Rental conditions: To shut the Honda MSX 125 eligible persons, the at least 21 Years old and owned the licence class A2 with two years of proven experience are. Motorcycle questions
Motorbikes rental on La Palma:
The journey is the reward
The times, When La Palma could drive around on bumpy dirt roads, long gone are the. Today, the Isla Bonita offers the bikers around 1.200 Km asphalt times on large Carreteras, on narrow streets. Who is on the Isla Bonita to the Ride motorcycle comes, is usually not in a hurry BB´s and often also the numerous smaller roads to choose. Here, the motto "The journey is the reward" is - constantly changing landscapes of hammer ensure from North to South and West to East, friendly people in rustic pubs along the way and pleasant climate. BB´s can be time fresh but even in summer on the peaks. We recommend the principle of onion skins: Motorcycle jacket - sweater – T-Shirt - swimsuits!
 
Motorcycle video – Go for a ride!
 
 
Summary
Reviewer
Review Date
Reviewed Item
Author Rating