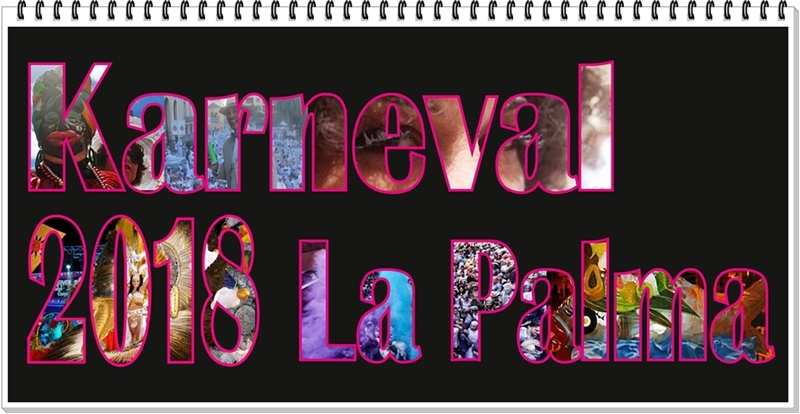 Stupid programs of municipalities 2018 ring around the island:
White Indian – Powder battles and sardines
No, This page is not obsolete: Still, Carnival is celebrated on La Palma! Because the events on the island to take up long after Ash Wednesday and only end with the sardine Burns, We summarize the highlights again clearly in our foolish calendar, as soon as the info from the municipalities are. Also about possible shifts in case of adverse weather conditions we will inform fans of the colourful hustle and bustle at this point.
w
s
w

Day of the Indianos 2018:

This event is the flagship of the Carnival on La Palma and is always on the Shrove Monday – so this year am 12. February, tens of thousands of colonial-dressed Indiana and Indianos in the capital Santa Cruz. Last year were around 80.000 Visitors counted, and 2018 should be not less than, the in the White, TALC by waberte overthrow Inferno.

More about it and about the other Carnival traditions on the Isla Bonita in this article of La Palma 24-journals.

Exhibitions on the Carnival.

Motives without end offers course for artists and photographers of Día de Los Indianos. Currently, there are four exhibitions, revolve around this topic: One is in the

Contacto Office

in Los Llanos is still up to the 28. February 2018 to see and shows photos of Karolina Backar. The other is a show in the

Tourist Office in Los Cancajos

, where Carmen Rodríguez up to the 14. February 2018 fancy hats and Fascinators of Indiana presents. The third show will take place in the

Contemporary Museum in Santa Cruz (MAC)

statt – Here are photos from Indiana robes of by designer Marisol Pais. The artist is fourth in League

Manu Marzán

: He shows paintings with motifs from the white Carnival in the

La Molina

, Calle O ´ Daly 17, in Santa Cruz.

More information on our exhibition page.




Program of Carnival of Santa Cruz de La Palma 2018

:

Saturday, 3. February

, from 12 Clock

Mojito competition

, Calle Álvarez de Abreu. From 21 Clock,

Mask group of Los Bambones

from Tenerife on the Plaza Santo Domingo. Caution due to bad weather cancelled: Thursday, 8. February, 17.30 Clock, great opening parade Cabalgata Anunciadora with students and kindergarten children – the alternative date will be announced.

Friday, 9. February

, 14.30 Clock,

Wig party

in the old town. From 22.30 Clock

first party on the Carnival grounds

in the Avenida Marítima.

Saturday, 10. February

, 11 Clock,

Fiesta of the Ambassador

mit Musik. From 18.30 Clock

Moving the Ambassador

.

Sunday, 11. February

, 11 Clock, Children's Carnival The Indianitos

. From

17 Clock

Batucada

-Drummers move.

Carnival Monday, 12. February

, from 10.30 Clock

Day of the Indianos.

From 17 Clock

Festival Latino

on the Carnival grounds.

Friday, 16. February

, 20.30 Clock

Sardines funeral

with

Los Lola concert

from 22.30 Clock.

Saturday, 17.February

, from 21 Clock

Concerts

Carnival grounds.

Sunday, 18. February

, 11 Clock,

Children's Carnival

Spain Square, from 18 Clock

Children's Festival

Carnival grounds. With all the details here click to the entire Santa Cruz Carnival programme.

Carnival 2018 in Los Llanos:

At the

Saturday, 3. February

, is there in the Plaza de España 12 Watch a

Carnival concert

with the urban music band. At the

2., 3. and 4. February

be the

Carnival Queens

gewählt. At the

Thursday, 8. February

, the moves

Students moving

through the city. At the

Friday, 9. February

, will be to 22 Watch the

Carnival shops

opened in the cinema road. At the

Saturday, 10. February

, is from 14 Watch lots of baby powder in the

Gran Polvacera

scattered around the Plaza (see photo above), then it rises

Carnival Fiesta

in the area of Kiosko. There it is most

Carnival Monday, 12. February

, at 22 Watch with another one

Party

more, and at

Tuesday, 13. February

, starts to 17 Watch the great

Fools parade through the town

. At the

Thursday, 15. February

, be the

Robes of the Carnival Queens

issued on the Plaza. At the

Friday, 16. February

, increases the

Mask Festival

and

Sardine

be buried – the move begins with the fish to 19 Clock. At the

Saturday, 17. February

, increases to 11 Watch on the Plaza the

Batucada- Fixed

– the drum groups hit also most

Sunday, 18. February

, in

Puerto Naos

from 18 Clock in.

For the detailed programme.
Carnival 2018 in El Paso: At the

Friday, 2. February

, is off 17 Clock

Children's Carnival

announced at the Exhibition Centre. At the Saturday, 3. February, continues with the hustle and bustle: From 11 Clock can make young and old Wigs on the Plaza in front of the old church, at 17 The clock starts Carnival parade in the Barranco de Las Canales, and at the end of the big wave Wig party with lots of music until morning to 5 Clock. At the Sunday, 11. February, El Paso invites to the Dance of the masks in the Calle Tanausú, and at Friday, 16. February, continues to 10 Watch the Carnival Relocation of schools in motion. At the Sunday, 18. February, is there 18 One clock in the Calle Tanausú Dance of the Indianos to see, and is the traditional end of the Carnival in El Paso am Saturday, 3. March, at 22 Watch main street the Rabbit Festival Fiesta de Conejo celebrated.
Carnival 2018 in Brena Alta: On the Plaza Bujaz BB´s goes on

Saturday, 10. February

, about. At 10.30 The colorful clock is

Children's parade

in motion – part of the game are more than 600 Fools and musicians. At 14 Watch begins

Carnaval de Día

– the Fiesta offers up 20 Watch fun and music with DJs Pello and Bembé, Chabela Arnao, Abel Dordovez and Cuarto son.
Carnival 2018 Punta Gorda: The great

Fools parade

was of the 18. on

Thursday, 15. February

brought forward! Beginning 16 Watch on the Pino de la Virgen aiming at the El Pinar.

Friday, 16. February:

Children's Carnival

in the Town Hall. At the

Saturday, 17. February

, You can look at the

Farmer's market in Puntagorda

one

Mask dance

, and from 19 Clock plays the music. At the

Saturday, 24. February

, begin 18 Watch the

Sardines laments

on the farmer's market – at 21 The clock starts

Funeral procession

According to Cuatro Caminos.

Carnival in Breña Baja:

Sunday, 11. February, 12 to 20 Clock

La Pamela

in Los Cancajos with music and prizes for the most beautiful women's hats.

Friday, 23. February

,

Carnival parade in Los Cancajos

. Beginning: 17.30 Watch main street. The fools draw to the parking lot.
Carnival 2018 San Andrés y Sauces: At the

Sunday, 18. February

, is the

Boda de los 60 BB´s

celebrated. All dresses up as a bride and groom of the 1960s. Go to's 12 Watch with lots of music.


w

Carnival in …

Carnival 2018 in …
Carnival 2018 in …
w
s
w

So not sad at all: The funeral of the Sardine

Info: In many places, the "Entierros de la Sardina" complete the Carnaval parade on La Palma. This layering fish are burned with great jubilation in paper or fabric.
w
w
s
w
The date of the

Sardines combustion in

Windward

already it is clear: The fish is most 3. March 2018 at 21 Watch torched. The Sardinismo Fiesta starts at 2. March with many events –

to the program

.
In

San Andrés y Sauces

the fish comes most

24. February 2018

on the grill.
It says Adios la Sardina in

Puntallana

on

23. February 2018

. The motto of this year is Andalusia. The fire is to 21 Clock set on fire.
Bye it means fish in

Santa Cruz

on

Friday, 16. February:

The sardine is to 20.30 Pass the flame watch, and from 22.30 It celebrates that with a clock Los Lola-Concert.
In

The Plains

burn the stopped the sardine am

Friday, 16. February 2018

, from. The so not sad Dirge starts to 19 Clock.
In

Puntagorda

Start am

Saturday, 24. February

, at 18 Watch the

Sardines laments

on the farmer's market – at 21 The funeral procession to the final fish roast starts clock for Cuatro Caminos.
w
s
w
w
s
w
w
s
w
w
s
w
w
s
w
w
s
w
w
s
w
w
s
w
w
s
w
w
s
w
w
s
w
w
s
w

Print Friendly
Article powered by Google