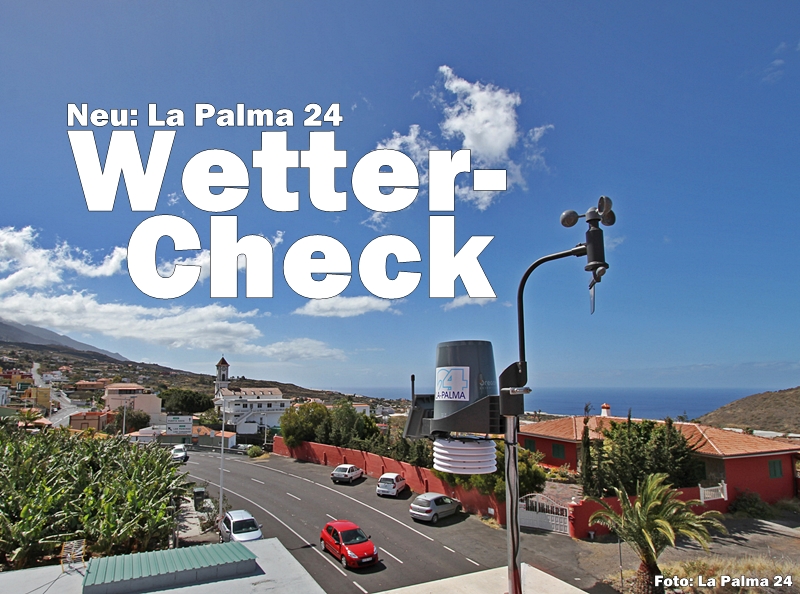 The new La Palma weather station
On the Internet at a glance:
Sun, Wind or rain in Todoque
 
Great balls of fire: On the roof of the offices of La Palma 24 in Todoque, a weather station stretches their electronic sensors in the sky recently. Managing Director Michael Nguyen is technically at the front and has come up with this new service to customers and friends.
 
A weather station is a compilation of various measuring instruments, the data on temperature, Wind, Supply air humidity and rain probability. But not only Miki behind closed doors can retrieve the values of the plant in Todoque on his computer. Thanks to the Computercrack Ayose in the La Palma 24 team the information can be checked in now open design on the Internet.
 
La Palma weather station: Info in real time
Ayose has written a program extra, in real time on the new Web site appear the information of the weather station in the form of dynamic tables thanks to the. Tip: If you click on the date fields, a calendar is up, and you can see the results of the last few days or months. Ayose is currently working on a second function, with the weather fans this new service from La Palma 24 can install on their homepage. In addition, he wants to create the possibility for a weather forecast - so every now and then click.
La Palma 24 operates one Car- and motorcycle rental and conveys more than 500 Vacation Rentals the small Studio to the Villa with pool on the Canary Island of La Palma.
 
 

Print Friendly
Article powered by Google