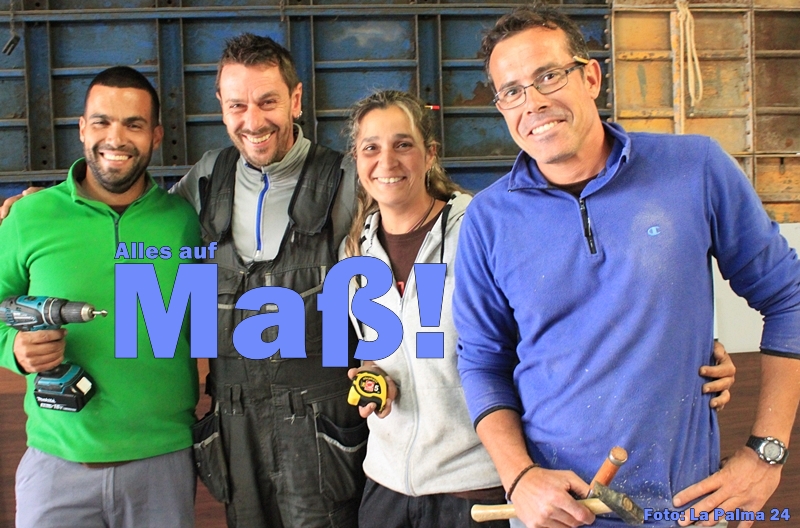 "Quality is our first priority:
If I'm doing something, do I make it perfect!"
Home improvement is a fine thing - but when it comes to large projects such as conservatories, Window- and door installation or to measure goes to furniture and kitchens, contact smart people at an artisan with expertise. Rolf Benker brings them around with his 30 Years experience as a cabinet maker and aluminum maker more than abundant with. For nine years the expert provides his concentrated know-how customers on La Palma. Recently, he expanded his shop in El Paso: After the expansion has now a total of Rolf 450 Square meters space for the Assembly of aluminium- and wood projects.
The mood in the workshop by Rolf Benker in El Paso is very good. Its now six employees received me very kindly, show me the way to the Office of the Chief and then immediately focuses work. Apparently Rolf's motto - "you can trust this Carpenter" - also applies to its employees. Because they know: Here she directs an absolute professional in aluminium- and woodworking map, and this gives the young people of the island a good feeling. Briefly explained Rolf, how and where he once has earned his spurs:
Wood was always my thing. I started already at the age of twelve with carpentry work. My uncle in Belgium was also Carpenter, and I helped there always a bit. After school I started then with an apprenticeship as a building- and cabinet maker and then took me as aluminum manufacturer. After that I worked in various companies in Belgium and an aluminium joinery in Luxembourg, where I have led the Assembly Division and trained many people.
For nine years, Rolf on La Palma works, and after Belgium he was not really thinking of a return. During this time he has started a family and made themselves a very good reputation among its customers. In particular in the area of Alubau, Rolf Benker considered capacity:
I'm on winter gardens, Car ports, Glass facades, Specialized in Windows and doors. And quality is the first priority for me, that is, I'm about "price value" projects. If I'm doing something, must be perfect. Everything must be, because it's always been about security and lasting stability in combination with optical lightness in the Alubereich. The strong temperature fluctuations in the course of the year on La Palma is above all insulation in all weathers by so-called expansion joints of crucial importance. In addition, I realize also wooden structures - such as pergolas. But I consider it important, I do it my way, I reject the known combinations of tile cement. For new construction projects I have worked with the architects, otherwise, I make the static, Calculations and design of my projects complete itself. I believe, my high demands, I have acquired a good name on La Palma, and I would like to keep the.
Rolf is wholeheartedly in the thing - that everyone immediately feel, He met the committed 47. Also in its second division, the cabinet maker, He gives everything: ranging from individual designer pieces to complete kitchens. Join the creativity and good taste to his technical skills. Rolf gives insights into the wooden box:
For me it was the doctrine of cabinet maker, her creativity opens the door. Today it makes me totally fun, the customers, have a special piece of furniture in the sense, on the way to realize. You come and tell me your wishes and ideas, I then put to and, if necessary, fill in with my own ideas. Seen in this way, We design new furnishings, sometimes office equipment, Special picture frames or other decorative items. All styles are possible: I have made such a wine Cabinet in a stylish palettes look and designed a wardrobe in Louis-14-collage and then in 180 Hours-built.
In view of the hour, Rolf is also professional with a perfect method. Shortly after 5 A.m., he is the first in the workshop in El Paso, and the last, the evening against 19 Watch. In between driving the boss of course customer conversations and to the Assembly at its construction sites and treats herself to only a little lunch break. Despite this concentrated program of dedicated makers remains very relaxed:
I love positive stress and always say: This is my life, I love my job. It's always been this way… Even if I'm on the road with my family, I see now, where something would be to improve. Once I fixed just a door at dinner in a restaurant (laughs).
"Made of aluminium and wood: What kind of life!"That's the vigor tool trolley by Rolf Benker. Who wants to book the sympathetic craftsmen with claims for a long-lasting project, It calls and makes an appointment. And then here's what happens, advised Rolf:
I meet with the potential customers locally and look, what he wants. Then I measure out and give explanations, then I invite the customers mostly in my workshop. Because he should get to know the people, work here, to make everything harmonious. With my employees, I've won the lottery anyway. The most important thing is trust on all sides…
The philosophy of Rolf Benker works - at the winter gardens, he is fully booked on some months. He still pushes in between smaller projects. Last but not least,: The native Belgians is fluent in German, In French and Spanish and some English, to best advise its international clientele on La Palma.
All other information about the ALU- and furniture joinery Rolf Benker:
Workshop address Calle El Rosal in El Paso: Shortly after the restaurant Kenya's right goes up in a dead end, After a short drive, turn left at car-Mika and a few metres go the way, until you can see the Hall by Rolf Benker.
Telefon: 664.797.435
E-Mail: benleyh@hotmail.de
Website of Rolf Benker: www.Rolf-Benker.com
Facebook page Rolf Benker: Click heren

Print Friendly
Article powered by Google