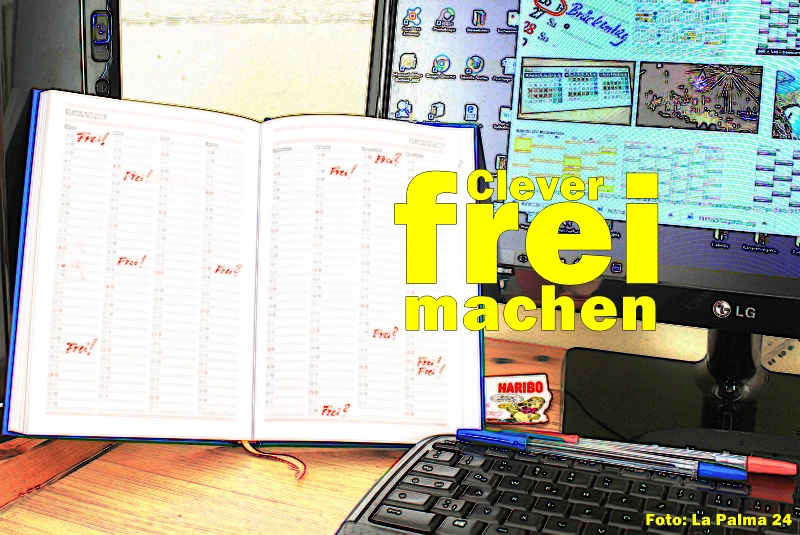 -,Celebration- and long weekends 2018 use in Germany for holidays on La Palma
The early bird catches the worm:
Holiday 2018 plan now and smart!
Long weekends are holidays, that fall on weekdays. Who uses her clever, can extend his vacation. 2018 in Germany there are some holidays very employee friendly. We list we here, Thus La Palma fans and those, It still will want, in time your holidays next year with little day consumption can book. To do this, we describe a few combinations, of course, others are possible.
On Easter Sunday, it looks good as always: Who from Saturday, 24. March, to Easter Monday, 2. April 2018, for ten days holiday will make, need to apply for only four days of vacation: from 26. to 29. March. And it's still different: Also ten days from good Friday to the 8. April BB´s is, If one of the 3. to 6. April is a holiday.
Also labor day am 1. More 2018 is an employee-friendly on a Tuesday. So take holiday on Monday, do you get along with the weekend to four vacation days. And who the holiday card on Monday, 30. April, as well as by the 2. to 4. Pulls may, will benefit from a total of nine days without work.
Ascension of Christ like every year on a Thursday. Say: You can am 10. More 2018 make as usual from Monday to Wednesday claimed three vacation days and scored six relaxing days, taking into account of the previous weekend. An alternative combination: Taking the previous week to the labour day am 1. May with and requested the 30. April, from 2. to 4. More, from 7. to 9. May and most 11. May holidays – then stem including weekend 16 free days with a consumption of only eight days.
Smart machines combine Ascension am 10. May with the Whit Monday, the 2018 on the 21. May fall. Who from the 5. to 21. More 17 Days wants to have free, need to do this 2018 only nine days to submit vacation – from 7. to 9. More, on 11. May and by the 14. to 18. More. This Bill can be even shorter: Who invested six days, Cane vom 10. to 21. May dangle the soul.
The time of Pentecost until the next holiday, Corpus Christi on Thursday, 31. More 2018, can workers in some, but not all, as usual use German Federal States with the involvement of both holidays and weekends: seven days of vacation by the 22. to 30. May submit, at 13 free days to achieve! Or 16 free days make, by one eight days from the 22. May until 1. June fries. Of course the Corpus Christi day can also be used for short holiday, by this week three days before the Thursday, 31. More, or the Friday after that holiday is taken and so taking into account of the weekends of six or nine days wave.
As the next public holiday of the assumption stands on Wednesday, 15. August 2018 an. In his pleasure however only parts of Bavaria and the Saarland workers come. That is, who there am 13./14. and 16./17. August 2018 Holiday takes, can come along with the weekends around it on up to nine days without work.
Workers of all the provinces can then return to the 3. CallHe smilein. The Tag of the German unit is 2018 a Wednesday, and so one can mathematically as at assumption.
Also the Reformation day am 31. October 2018 falls on a Wednesday. Use as a holiday to commemorate Martin Luther can it workers in Brandenburg, Mecklenburg-Western Pomerania, Saxony-Anhalt, Saxony and Thuringia. Calculated again like at assumption.
On Thursday, 1. November 2018, follows all Saints. This holiday exists only for workers in Baden-Württemberg, Bavaria, North Rhine-Westphalia, Rhineland-Palatinate and Saarland. Who here lives, with a Urlaubsnahme of the 29. to 31. October and most 2. Come the weekends on nine days of November.
Also the Buß- penance day on Wednesday, 21. November 2018 is not nationwide, but only in Saxony as a holiday called. It takes two days of vacation before or after this Wednesday, can one enjoy five days each vacation including weekends, and who logs off all week, used four vacation days, including the weekends for nine days to rest.
Christmas 2018 shows very employee friendly: The 24. December is a Monday, that is, the two Christmas holidays fall on Tuesday and Wednesday, and also the new year's day 2018 is a Tuesday. Conclusion: Apply at best right now holiday am 24., 27., 28. and 31. December 2018! Then just four holidays departing from your account, You can total 11 Days long holiday make - maybe on La Palma.
Flights are in fact already at some airlines to Santa Cruz de la Palma (SPC) for the winter 2018/19 Book bar – for example, when Condor. And on the La Palma holiday accommodation Portal 24 is among the more than 500 Apartments and houses in all price ranges and locations well everyone something optimal. In addition advisable for a holiday on La Palma a Car rental, to explore the Isla Bonita. Who with the Motorcycle do want, will also help the, We introduce the bikes in an article.
The team of La Palma 24 looking forward to your visit. All further information at Charlie in three languages in the La Palma 24 Office in Todoque. German phone number: 0711/21.72.02.48, Phone on La Palma: (+34) 922.46.18.19.

Print Friendly
Article powered by Google