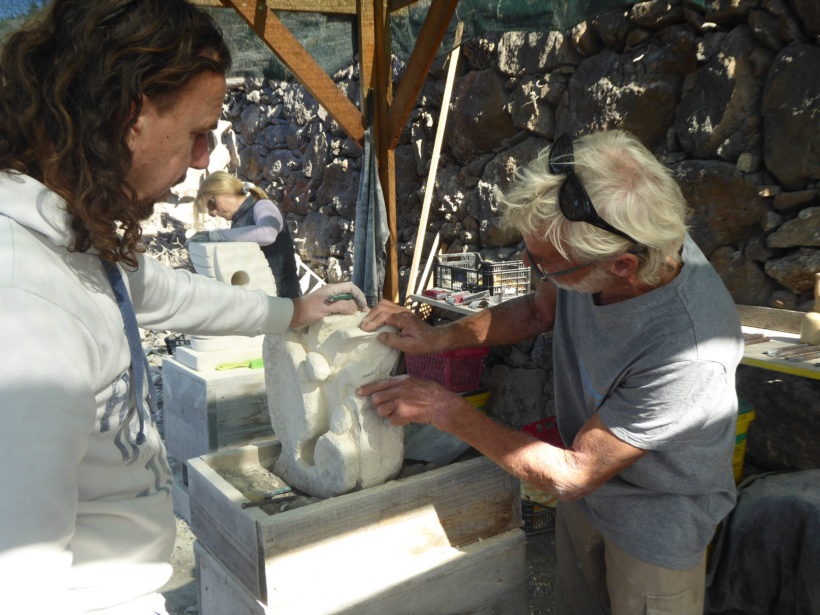 You want to combine your holiday with creativity? And maybe try something new? For example, a rock at your imagination form? No problem in a workshop with Jürgen cracks. The trained sculptor has 20 Years on La Palma and offers regular training courses in the winter months. At least three days you should bring it and in group participation, the price is of course a bit cheaper. No matter, if you ever had or the appropriate tool in the hands not: everything is explained and soon after on their own, beige-colored limestone losgelegt. And all this in an "open-air workshop" La Punta in Tijarafe with a great view of the sea.
Step by step be inspired
"Working on a stone is an experience", says Jürgen and is continually emphasized by the participants. "Especially for people, who engage in it for the first time. It's just a good feeling creative potential, which has not been previously recognized, to finally be able to live out ". And it's quite easy, when you approach the reaction without presentation of the finished stone. Jürgen acts leading up to a brainstorming on each individual. "Especially people, which come with no concept or idea to me, experience exciting process and it happen interesting things ", explains the sculptor. One should simply just happens from the moment, Step by step be inspired.
Simply enter felt in the stone and incorporate into it, what is moving you on or detail. "Without sincerity desire ensteht the works".
Will it quietly in his outdoor workshop and you just knock, Hammers and rasps perceives ... then you know Jürgen, that the workshop is currently running really well. For now, the participants are in the "creative flow"! Here, internal processes are triggered: as z.B. to feel where your limits are and / or to discover themselves in a whole new way. Jürgen is quite similar: He also provides keep finding new things about yourself. "I have an almost unlimited potential - I experience now with my light sculptures, by the models in the implementation reinvent themselves again and again ".
New catalog with light sculptures
16 many are currently on display in his just-published catalog STONE STAR light sculptures. Included are, for example, his light sculptures "Tazacorte and Paris", let your garden or patio shine in a different light. Two of his pieces are currently in the "Galerie la Punta" on the main road (across from the church), La Punta 36 exposed. And if you've now got the desire, try yourself for us as a sculptor - here's there more information about courses:
Web page
Such. 0034 / 649 861 367
Mail: Info@bildhauerkurse-La-Palma.com
by Vera